On Tuesday morning the markets are again dominated by purchases of risky assets. MSCI Asia Pacific Index ex Japan jumped 1.6% and the Nikkei225 rose 1.5%. The media attributed this increase to the market reaction of the strong data from China. That's a bit of a stretch, as the Chinese data was already available a day earlier and at that time, the market reaction was a very mixed bag.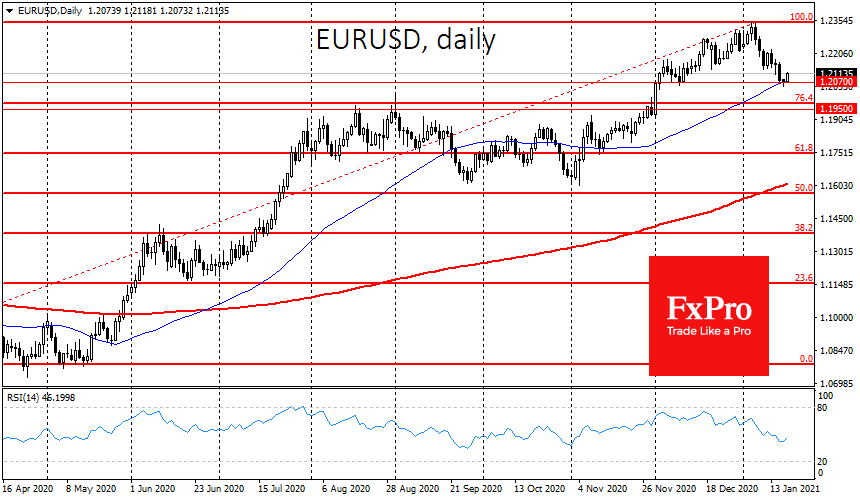 The rally is more likely a buying attempt after a slight downturn. Confident about the prospects of global economic recovery and the impending new stimulus in the US and other countries, investors are buying risky assets, assuming that ultra-low interest rates will continue for a long time, combined with accelerating inflation.
Interest in risky assets can be seen in the weakening of the yen against major competitors. The USDJPY rose above 104 in the morning. However, this rebound should be taken as a sign of market optimism and not a demonstration of dollar strength, as EURJPY made an even more elegant reversal.
The single currency successfully withstood the bears' attack on Monday, staying above the 50-day average against the dollar and the yen. On EURJPY, buying intensified on the downside towards 125, bringing the pair back to 125.80 now.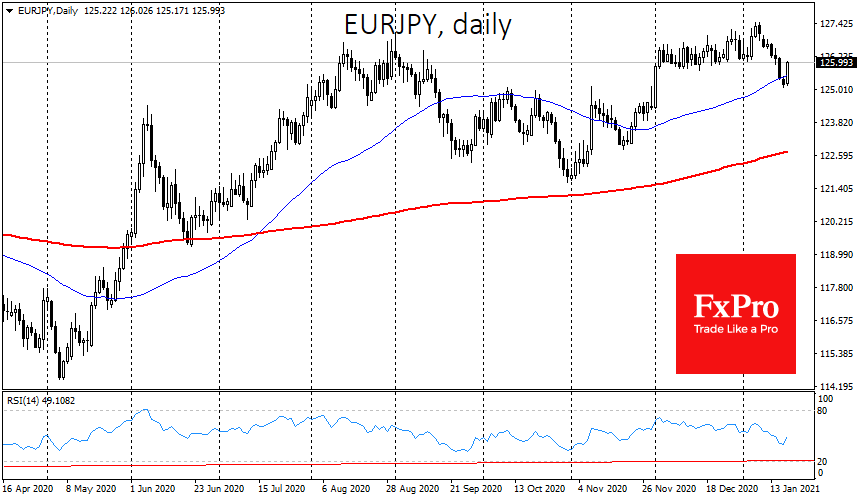 Similarly, EURUSD received support on Monday on the decline towards the 50-day moving average, encountering an avalanche of buying after touching 1.2050, which sent the pair above 1.2100 this morning.
GBPUSD increased on Tuesday morning from the lower boundary of the rising channel formed in late September.
Markets are finding the strength to stay within the strong upward momentum occurring since late September. The ability to bounce back from the 50-day average and stay within the established momentum at the end of the day today could be an important signal that this bullish momentum will remain in force for some time to come, despite the overbought stock market.
Source: FXPro